"Southsection" contribute 100% royalties from track "Uprise" to NHS fund raiser
"Ramp Up The NHS The Album Vol. 2" by Ramp Up. 100% toward NHS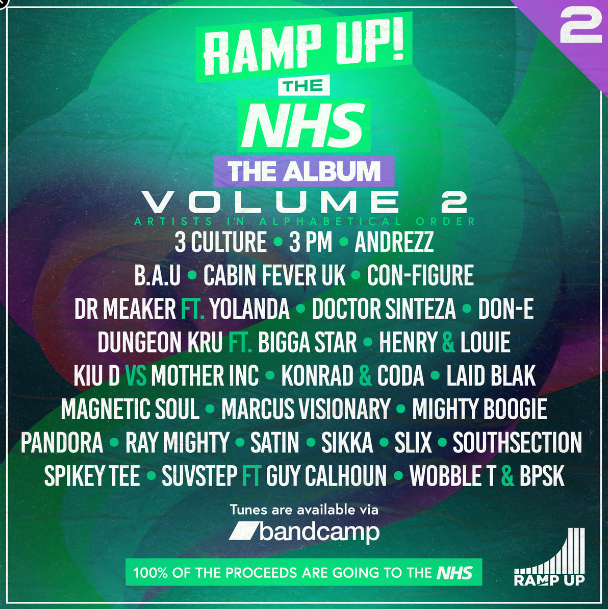 "Nothing Meaner" The Story of Dean Lane Skatepark. This documentary features several "Southsection" tracks. "Wayne Muscat" makes an appearance in this documentary as a Dean Lane veteran skateboarder.
"Southsection" track "Everyday" features in Candian Sci-fi. ReGenesis. Baby Bomb S1/Ep1 is a Canadian television program produced by The Movie Network and Movie Central in conjunction with Shaftesbury Films. The series, which ran for four seasons, revolves around the scientists of NorBAC, a fictional organization with a lab based in Toronto. The organization investigates problems of a scientific nature, such as bio-terrorism, mysterious diseases or radical changes in environment throughout Canada, the United States, and Mexico. NorBAC is headed by David Sandström, the chief scientist and molecular biologist. Through this character the show often addresses topical social, political and ethical issues related to the science at hand. The series was originally seen on The Movie Network and Movie Central with rebroadcasts on Global and Showcase in Canada. Internationally it can be seen on FX in the United Kingdom, The Science Channel, Halogen TV and in syndication and CW Plus in the United States, and FX Latin America in Mexico; as well as numerous broadcasters in Europe and Asia. International distribution is handled by Oasis International.
"Southsection" track "Everyday" @ 32 mins 20 secs. ReGenesis. Baby Bomb S1/Ep1

Green Origin feat. Muscat / recorded at Champion Records, Kings Cross, London, England. Originally from 1999 album "Forth Alliance" re-recorded for 2002 album "Disk Connection"
MUSIC REVIEW: German Website Besonic Review for Southsection track "Smokey" "This is smoked down e-z-ness from the Southsection aka Ben Barter and Wayne Muscat. This smoothness and harmony in love with the right beats and rhymes. Oh, and what a wonderful female voice, wow! So, as the title says, this is reeeal "smokey"!
MUSIC REVIEW: German Website Besonic Review for Southsection track "Wildlife" "Strange is beautiful" a good friend of mine maintains to say. And in doing so, Southsection aka Ben Barter and Wayne Muscat from Bristol, UK prove it. Bristol? There was still something? Oh yes, that dark-melancholic Downbeat sound of the 90s, which many also like to refer to as Trip Hop and was influenced/defined by such acts as Tricky, Massive Attack, Portishead or Smith & Mighty. In this – "their" – tradition, Southsection work and experiment noticeably, but equally in their creative tension between the fields of Jazz, Soul, Hip Hop, Breakbeat and Dub they are about to avoid laws of style and unnecessary barriers and do not feel a delicacy about disharmonies and experimental sound collages – not as a side effect, but quite as an essential foundation. "Well, that was going on with Tricky 10 years ago already" some might say… for sure, however – and this is to notice on "Wildlife" very significantly – plagiarism is not possible per se within such a broad, open and – above all – necessarily "perceived" understanding of sound without sounding like that in the end. Southsection explore the limits and possibilities of their musical character and one digs it in every nuance.
Ashton Court Festival 14th and 15th July 2007 – Southsection Music Video's showing inside "The Blackout Tent" in conjunction with "The Cube Cinema Complex" and "Bluescreen"
Southsection selected for onboard flight music player aboard Delta Airlines
Southsection" perform Live at Yate Race Track. South Gloucestershire (Race for Life) Cancer Research UK 2003
BBC Radio 1Xtra : 100% Home Grown – Homegrown Cuts. Southsection confirm track "Sum Ahh" for use on BBC Radio. 2002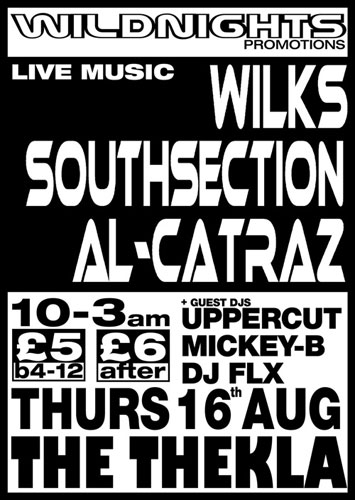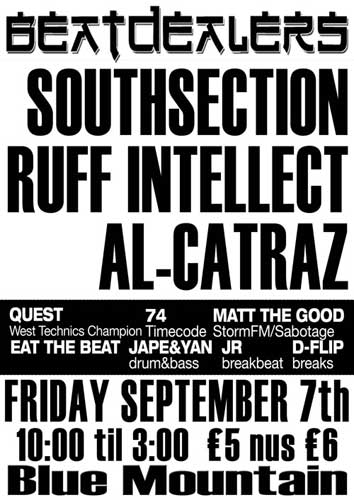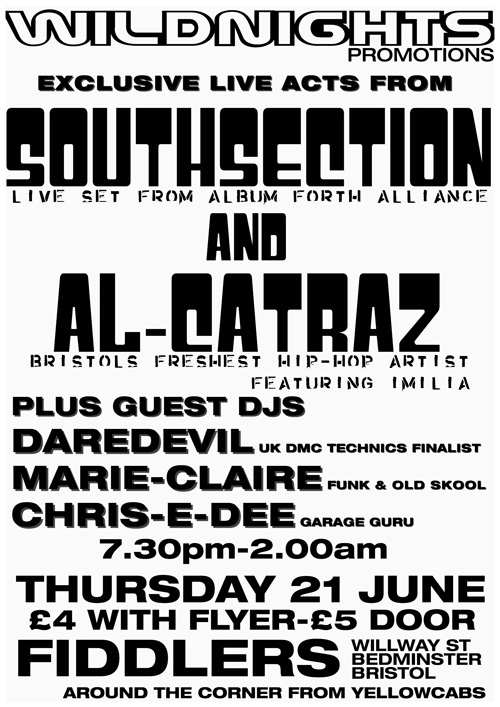 "Jammin' Weekender" Pure Vinyl Reggae with "Reggae Section Bristol" Muscat and Rowley. Jamaican Cuisine with Agnes Spencers Amazing @ ★ Dick Willows Cider Barn★ Saturday 26th June @ 1pm – 9pm 2021. Orchard Fields, Claverton Hill, Claverton, Bath, BA2 7BB
"Jammin' Weekender" Pure Vinyl Reggae with "Reggae Section Bristol" Muscat and Rowley. Jamaican Cuisine with Agnes Spencers Amazing @ ★ Dick Willows Cider Barn★ Saturday 5th June @ 1pm – 9pm 2021. Orchard Fields, Claverton Hill, Claverton, Bath, BA2 7BB
"Vinyl Dub and Reggae with Reggae Section Bristol AKA Muscat @ ★ Dick Willows Cider Barn★ Saturday @ 2pm – 8pm. Orchard Fields, Claverton Hill, Claverton, Bath, BA2 7BB
JAMMIN' AT THE CIDER BARN Reggae with Reggae Section Bristol AKA Muscat plus Agnes Spencer's Jamaican Cuisine @ ★ Dick Willows Cider Barn★ Friday August 21st @ 6pm – 10pm. Orchard Fields, Claverton Hill, Claverton, Bath, BA2 7BB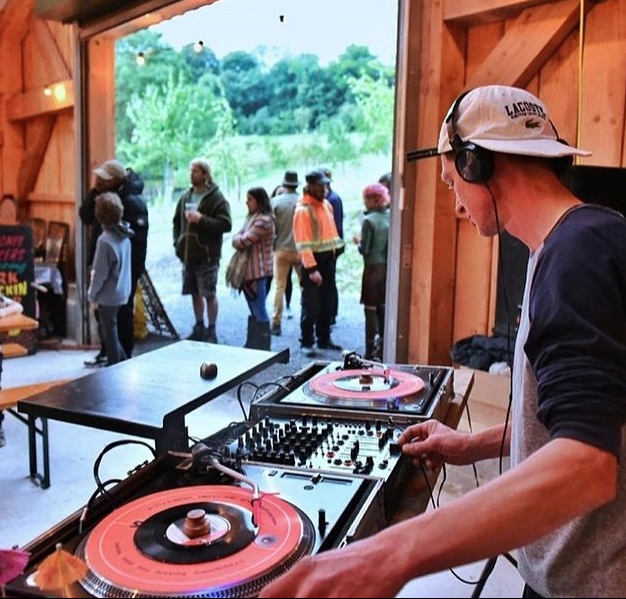 "SPRING FEST. Dub and Reggae from resident Love Food DJ Muscat (Reggae Section Bristol Sound System) + guest DJ Tim Spencer at Sandy Park, Brislington, Bristol. Repton Rd. Underneath bridge in car park at the ★ Love Food Market ★ FREE EVENT. Saturday 13th July 2019 10.00am – 4.00pm"
"Friday Night Market REGGAE TAKEOVER Don't Test and Reggae Section Bristol play Yeo Valley Sound System St Nickolas Street. Friday 10th May 6pm – 10:00pm ! Good Vibes ! Good People ! Amazing street food ! FREE ENTRY"
"Love Food Festival Spring at THE PAINTWORKS. Bristol. UK. Muscat + Rowley select vinyl reggae. Sunday 24th March 2019. 10.30am-4pm"
"New Years Eve Reggae Party. Muscat and Rowley – Reggae Section bring in the New Year. The New Found Out – 60 GREEN STREET. Totterdown. Bristol. MON, DEC 31 AT 8 PM"
"St Nicks Night Market. The Old City. December 7th. Djs music and street food. 5-10pm.
Muscat 5-6pm at The Glass Arcade and 6-7pm on Yeo Valley Sound System.
John Stapleton 6-8pm and Rowley 8-10pm at The Glass Arcade"
"Ska Reggae Party with Muscat and Rowley. The Reggae Section at THE NEW FOUND OUT. 60 GREEN STREET. TOTTERDOWN. BRISTOL. BS3 4UB. Friday 22nd September. 2018. 8pm"
"THE REGGAE SECTION. Dub. Reggae. Ska and Roots. Selections by Muscat and Rowley. The Reggae Section at THE NEW FOUND OUT. 60 GREEN STREET. TOTTERDOWN. BRISTOL. BS3 4UB. Friday 17th August. 2018. 8pm"
New Found Out
"FREE ENTRY Dub and Reggae from Muscat at the ★ Love Food Market ★ Selecting good vibes at Repton Road car park Saturday July 14th 2018 10am – 4pm. Sandy Park Road Brislington Bristol BS4"
Spring Fest
"The Old City – June 15th – 5-10pm in the Glass Arcade at St Nicks Night market ! Djs, live music and street food until 10pm ! Muscat 5-6pm. at The Glass Arcade and 7-9pm on Yeo Valley sound system. Rowley 8-10pm at The Glass Arcade"
St Nicks Night Market
"Totterdown Festival is an annual event held in Bristol. This year Love Food Festival, Friday Night Market and Reggae Section resident DJs Muscat and Rowley select Reggae for your earlobes at The New Found Out."
Totterdown Festival
"Muscat plays Reggae 5-6pm in the Glass Arcade at St Nicks Night market ! More djs, live music and food until 10pm ! You can expect chunks of funk from the Ghetto Funk Allstars who are also part of the team behind the award-winning Shindig Festival. Paul Rowley will be spinning some ital reggae and laid back beats 8-10pm"
St Nicks Night Market – St Nicks Night Market
THE REGGAE SECTION. selects some of Bristol's creatives who also share a passion for Dub. Reggae. Ska and Roots. Selections by Muscat. Andy Scholes. Nu-Balance and MD Junior who join forces for the second installment of The Reggae Section at THE NEW FOUND OUT. 60 GREEN STREET. TOTTERDOWN. BRISTOL. BS3 4UB. Saturday 24TH FEBUARY. 2018
LOVE FOOD FESTIVAL. AUTUMN. THE PAINTWORKS. Bristol. UK. Muscat + Rowley dish dub, reggae and rock steady." Sunday 29th October 10.30am-4pm
THE REGGAE SECTION. Muscat. Rowley. Peter D and Nu-Balance join forces to select Dub. Reggae. NEW FOUND OUT. TOTTERDOWN. BRISTOL. FRIDAY 29TH SEPT. 2017
Spring Fest. Repton Road Carpark. Sandy Park Road. Brislington. Bristol. UK. Muscat selects Dub + Reggae. 10am-15.00pm. 08:07:2017
SHINDIG WEEKENDER – Muscat + Rowley – DUB, REGGAE AND BEATS SELECTION 2017 "LOVE FOOD FESTIVAL-BANQUET FOOD AREA"
The Red Lion. Whitehall Road. Bristol. UK. Muscat selects Dub + Reggae. Friday 3rd Febuary 2017
"The Thunderbolt" Bath Road. Bristol. Dec. 2016 – Muscat + Rowley selecting Dub, Rocksteady + Reggae. Saturday 8pm-1am
Filwood Community Center. Knowle West. Bristol. UK. Troy Ellis and his Reggae Band. DJ Muscat + DJ Rowley dish up Rocksteady + Reggae. Filwood Community Center. Knowle West. Bristol. UK. Saturday 7pm-1am
Filwood Community Center. Knowle West. Bristol. UK. Muscat + Rowley. Play Dub, Rocksteady + Reggae for children Heart Charity. Filwood Community Center. Knowle West. Bristol. UK. Saturday 12pm-4pm
LOVE FOOD FESTIVAL. THE PAINTWORKS. Bristol. UK. Muscat + Rowley dish dub, reggae and rock steady." Saturday 11am-4pm
MAKE SUNDAY SPECIAL St Stevens Street. Bristol. UK. Muscat Bristol MC Producer played live on vocals throughout the 90's with Southsection Music, now entails Albums/E.P.s and Singles on the Southsection Music label, vacates the studio to dish up his selection of dub reggae and rock steady."
MAKE SUNDAY SPECIAL The Glass Arcade. St. Nicks Market. Bristol. UK. Muscat + Rowley give us their selection of the finest Dub + Reggae at The Glass Arcade